Happily, I'm taking part in a really cute blog hop for the next couple weeks! It's called Authors in Bloom and it's put on by
Diana Venetta
and
A Cozy Reader's Corner
.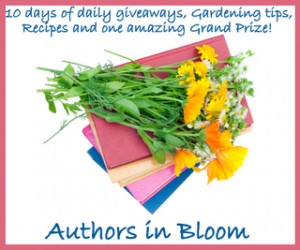 There will be recipe or gardening tips, plus more than 60 giveaways over the next ten days, and if you visit every author in the hop in that time, you're eligible for the grand prize, which is a Nook or a Kindle! (Your choice)
For me, how about a recipe? How about chocolate cake and strawberry icing?
Okay, cake first: (and they weren't kidding when they called it rich. It is amazing, but if you only like angel food type cakes, it is not for you.)
1 cup cocoa powder
2 cups boiling water
1 cup (2 sticks) butter, softened
2-1/2 cups sugar
4 eggs, at room temperature
2-3/4 cups all-purpose flour
2 teaspoons baking soda
1/2 teaspoon baking powder
1/2 teaspoon salt
1-1/2 teaspoons vanilla extract
1. Preheat oven to 350 degrees F. Grease and flour three 9-inch cake pans.
2. In a medium bowl, stir the boiling water into the cocoa until smooth, and set aside.
3. In a separate bowl, combine the flour, baking soda, baking powder and salt, and set aside.
4. At medium speed of an electric mixer, cream the butter and sugar for 4 to 5 minutes.
5. Add the eggs, one at a time, beating well after each addition.
6. Turn mixer down to low speed. Add the flour mixture to the creamed mixture alternately with the cocoa mixture, beginning and ending with the flour mixture.
7. Stir in the vanilla, and do not over-beat.
8. Pour an equal amount of batter into each of the three prepared pans.
9. Bake for 20 to 25 minutes or until a cake tester comes out clean. (I used only two layers and had to bake for 45 minutes at least)
10 Cool in pans set on racks for 10 minutes. Invert pans on racks, remove pans, and allow layers to cool completely before frosting. (LIES! let them cool for way more than 10 minutes.)
Great. Ready for the frosting? Now my husband first called this 'interesting,' crushing my spirit and soul, but he's since changed his opinion to 'greatest thing ever to go in a mouth.' Seriously.
Ingredients
1/2 cup (4 ounces) unsalted butter, softened
8 ounces cream cheese, from the refrigerator
2-1/2 to 3 cups powdered sugar
3 large strawberries, pureed
2-3 tsp. strawberry jam
pinch of salt, optional
Instructions
Cream butter and cream cheese for about 2 minutes.
Add powdered sugar 1 cup at a time. Add in jam and slowly add pureed strawberry until you get the desired consistency.
Chill before frosting
Okay, now that that's over...how about a giveaway? My newest release, Direct Contact is a dystopian romance. Here's the blurb!
Julie Gladwell has a secret. Acting as chief attendant for the New Government's procreation program, she rears girls to carry the emperor's heir. Only a few are chosen for the program, called "The Special Ones," and they are given no names, only numbers. They see no one but authorized personnel until their twenty-first birthday. Which is usually when they die. Direct contact is forbidden. As she cares for these girls, no one ever suspects who she actually is.
Scientist Malcolm Odin hated his job and hated himself. Put in charge of the entire human engineering program, the experiments and suffering he witnessed made him sick. Still, it paid the bills and kept him living comfortably in Terrecina. He knew of far too many who'd fallen through the cracks, living on the earth below. The Level People, they were called.
When he confides his unease to Julie, she lets him in on her secret and into her heart. What starts as fancy ends in revolution, but how will they choose between their fellow man and each other?
a Rafflecopter giveaway
And last but not least,
the rest of the stops on the tour can be found right here!
Happy hopping and happy spring!